Welcome to Hummingbirds Class
On this page we will be sharing some of the fantastic things we do in class. Our topic this term is County Crossings - read our Class Newsletter to find out more.
Snipe Dales 19 March
Today, the children of Hummingbirds Class visited the Snipe Dales Wildlife Park and took part in different geographical fieldwork activities. We walked from the source of the river and as we walked along the route of the river looked at and discussed how the features changed. We discussed the width, depth and speed of the river, how they changed and why. Following this journey we then proceeded to use the equipment to do a kick study of part of the river to see what wildlife lives there. The children used keys to check off the different creatures on their sheet, and even two bullhead fish were caught by the staff!!! The depth, temperature and speed of flow were measured and recorded. Everyone had a great day learning about rivers and how to use geographical fieldwork skills. Hummingbirds again did the school and class proud with wonderful attitudes and manners. Good job all!
Boxercise Beginnings 15 March
This term the children of Hummingbirds have been learning about boxing and fitness techniques in boxercise. These images are from the first session where it is clear they were going to continue to learn the different punch and defence stances and drills. They continue to enjoy this and more photos will be posted shortly. Having observed them I will definitely be keeping on their good sides!!!
Roald Dahl's Squiffing Tiles Game 15 March
During Reading Week, the children in Hummingbird's class played a tile game in English. They each had to collect a tile when their number was called and write their section of a story linked to that tile in 8 minutes! They enjoyed this consequences style activity and we had some rather bizarre yet well written stories. Good job Hummingbirds!
RAF Coningsby Battle of Britain Memorial Flight Visit 4 December
The children in Hummingbirds Class completed their World War II topic by visiting RAF Coningsby and seeing some actual WWII aircraft. They enjoyed seeing a couple of Hurricane Hawkers and Spitfires, as well as the American aircraft the Dakota and the wonderful British Bomber, The Lancaster! They learnt about each aircraft's duty and role in the war and how many were made and lost. The children were even treated to a testing of the engine of a Spitfire...this was rather loud!!!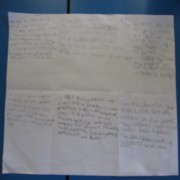 It was a wonderful trip and all the children did the school proud as usual through great manners, behaviours and enthusiasm.
The Term So Far.......Science
Science has been full of investigation and questioning so far this year. Whilst looking at forces and magnets, the children have explored friction on different surfaces, magnetic strength through different materials and even used jelly and custard as part of their scientific exploration! They have developed their scientific enquiry skills, learnt about different magnetic features and forces and overall had fun doing this. Keep up the scientific thinking Young Hummingbird Einsteins!
The Term So Far........PBones
This week saw the beginning of the Hummingbirds musical instrument session. Every week they have been developing their singing with Miss Justyna but now they are exploring the world of PBones (Plastic Trombones)! Even Mr Pearson got in on the excitement and had a try!
The Term So Far.....PE
So far this year the children have developed their football and hockey skills. They learnt defending and attacking skills in football and these have been transferable to hockey. Everyone loves when the Inspire+ coaches come in and the enthusiasm for sport continues to be evident. Swimming has also taken place this year and the progress every child has made is wonderful. Well done Hummingbirds!!!