Welcome to Class 2
Superhero Engage Day 10 July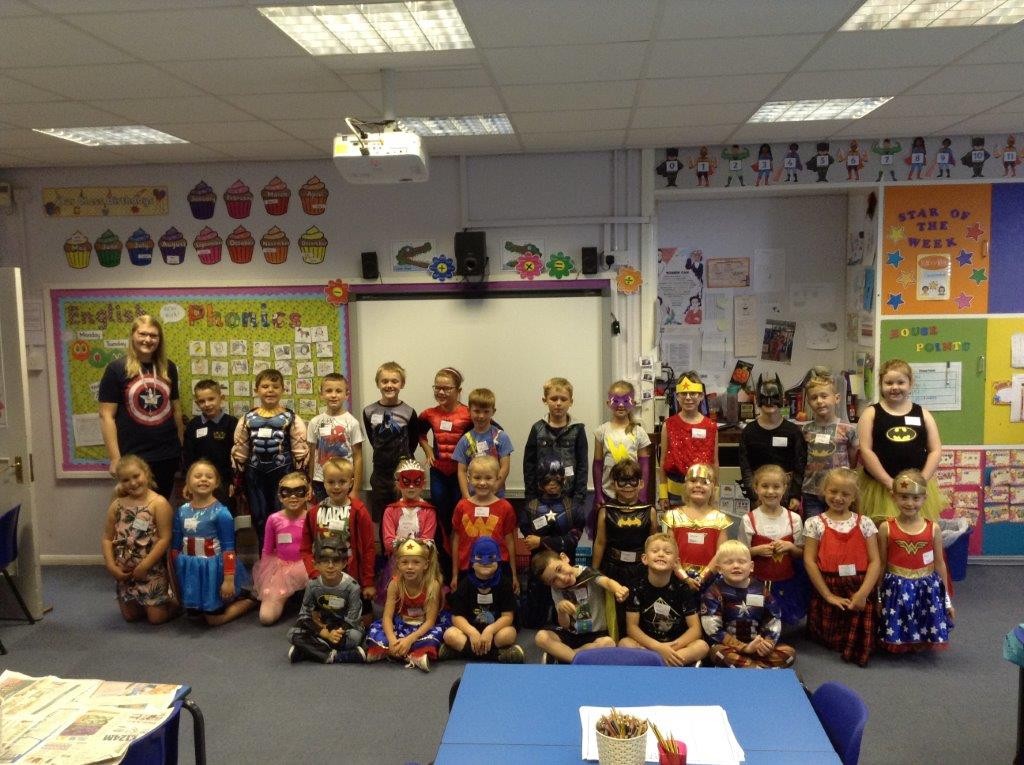 Today we learnt some superhero moves from Cat Woman, then saw some super vehicles from people who help us. After break we had lots of fun making Super Smoothies, a superhero mask and a cape. We also went outside on a superhero hunt and finally created our own comic strips. They had a fun and busy day!
Rounders 5 July
This week with inspire+ we started with underarm throwing and catching with a tennis ball. We then got into threes and practised holding and hitting ball with a rounders bat. Finally we all joined in with a game of rounders bringing all of these skills together.
Cricket 14 June
Today Jake from Inspire + came to Lutton and taught the children some throwing and catching skills. They also tested their batting skills against Jake bowling at the end of their session. The children really enjoyed the session and cannot wait until next week!
KS1- Police Visit 4 May
Today the children had a visit from a PCSO and Bobby Bear. We found out how the police are superheroes and what they do to help people. We even got to hear and see the sirens on the police car! Then the children were allowed to sit inside of it.
They loved their morning and asked lots of good questions to the PCSO.
Senses Investigation 4 May
On Wednesday Class 2 completed a senses investigation where they could only use one of their senses to predict what was hiding in their box.
Science 18 April
In Science this term we are looking at our bodies. We started by labelling a real human body! Then went on to label our own superhero bodies.
Squash 18 April
Inspire+ are back this year and have been teaching the children balancing, bouncing and racket skills needed to play Squash. The children loved the session and are excited to learn more.
PE 18 April
In PE today we have been creating our own games using a variety of equipment and skills. This involved a lot of team work and practice.
Sports Relief 16 March
I am so impressed with the children's enthusiasm for our Sports Wear Challenge! Take a look at their outfits.
World Book Day
On Thursday afternoon the children from Class 4 came to KS1 so that the children could share their favourite books with each other. They loved listening to the new stories.
Inspire + Rugby 9 February
Today Will from Inspire + came to Lutton to teach us some passing and throwing skills. They thoroughly enjoyed their morning and cannot wait for next week!
Storytelling 9 February
Class 2 have been writing their own Fairy Tales based on Shrek. They made their own characters and then wrote and illustrated their books. Take a look at their amazing writing.
Inspire+ 2 February
Class 2 have really enjoyed their gymnastic sessions this term. Look at all of the movements we can now create.
Jackson Pollock 2 February
Class 2 have been recreating Jackson Pollock's splatter artwork using ping pong balls and paint. It was really messy and lots of fun!
Gymnastics 5 January
Inspire+ came into school today and spent some time in Class 2. The children enjoyed playing sharks and performed some very tricky balances with a partner.
Christmas Tree Farm
We all enjoyed our trip today and were very excited to be on the top deck of a double decker bus. We met the farm dog Billy who was very friendly. We were given a talk on feeding wild birds and filled the feeders with seeds. Their were lots of different sized Christmas trees, some of which were seventeen years old. On our walk we found a foxes skull and jaw bone. We looked at the trees and one was chosen and cut down to bring back to the school. This will be decorated and be put in the school hall. We were told that every time you cut a tree down you should plant another one which we did. It was also demonstrated that you can tell how old a tree is by counting the rings on the cut trunk. Finally we played hide and seek among the Christmas trees and found items to match the words on our sticks. As a farewell treat we were each given a chocolate coin to take home.
Tallington Farm Visit 24 November
Today the children visited Tallington Farm and learnt about Christmas trees. They also investigated the outdoor area by collecting nature on a bracelet.
Dance with Inspire+
This week the children worked on their team work and leadership skills to perform some stunt work. This involved some careful balancing skills from all of the children.
Music
Miss Justyna has been working with Class 2 showing them how to play a ukulele.
Seaside Engage Day
Look at all the fun we had during our Engage Day!
Dance 31 October
Look at some of Class 2's dance moves with Beth from Inspire+.
Balanced Diets 19 October
This morning Sophie Allen came to speak to the children about what they eat and how they could have a balanced diet.
Gymnastics
In PE class 2 have been looking at how they can move their bodies in different ways. They have also been performing and holding gymnastic shapes.
Dissecting Plants
In Science this term we have been looking at plants. We dissected plants and sorted out the different parts.
Money
We have been learning about money- take a look at some of our work.