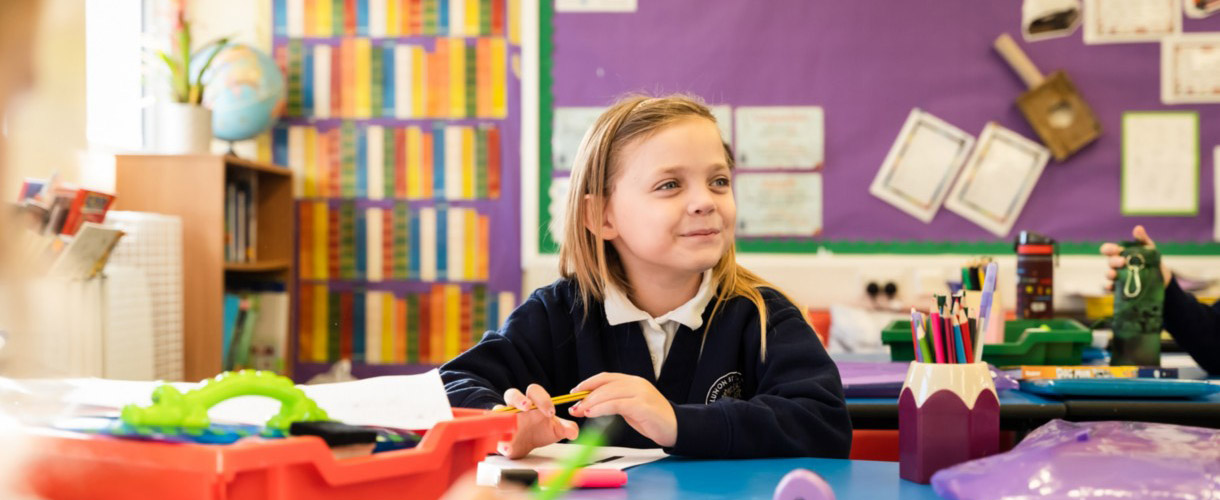 Our Curriculum
At Lutton St Nicholas Primary Academy, we have adopted the "Cornerstones" approach to ensure our curriculum is broad, balanced and meets the requirements of the national curriculum. This particular approach has been introduced to support a project-based, thematic approach with the aim to provide our children with a range of rich and memorable learning experiences.
School specific drivers for our curriculum:
Aims
Through use of the "Cornerstones" Curriculum we aim to:
Engage children through interesting topics and hands-on activities.
Make meaningful links between subjects.
Develop children's skills, knowledge and understanding of a range of themes and
concepts.
Make effective connections to the real world.
Help children to think creatively and solve problems.
Develop children's capacities to work independently and collaboratively.
Enable children to make choices about their learning.
Take account of children's interests and fascinations.
Our Approach
Our approach:
develops children to the best of their abilities
helps children to find their passions and interests
facilitates children's acquisition of knowledge, skills and understanding
helps children to develop intellectually, emotionally, socially, physically and morally
assists children in becoming independent, responsible, useful, confident and considerate members of the community
promotes a positive attitude towards learning, so children enjoy coming to school
helps children to acquire a solid basis for lifelong learning
creates and maintains an exciting and stimulating learning environment
ensures that each child's education has continuity and progression
enables children to contribute positively within a culturally diverse society
Structure
Our curriculum is built on The Four Cornerstones of Learning – Engage, Develop, Innovate and Express. These are four distinct stages that actively promote children's learning and thinking.
The Four Cornerstones of Learning link explicitly to pupils' spiritual, moral, social and cultural (SMSC) development.
The focus for teaching and planning in each Cornerstone is as follows:

Engage
hook learners in with a memorable experience
set the scene and provide the context
ask questions to provoke thought and interest
use interesting starting points to spark children's curiosity
Develop
teach knowledge to provide depth of understanding
demonstrate new skills and allow time for consolidation
provide creative opportunities for making and doing
deliver reading, writing and talk across the curriculum
Innovate
provide imaginative scenarios for creative thinking
enable and assess the application of previously learned skills
encourage enterprise and independent thinking
work in groups and independently to solve problems
Express
encourage reflective talk by asking questions
provide opportunities for shared evaluation
celebrate success
identify next steps for learning
Memorable Experience
Each Imaginative Learning Project (ILP) begins with a memorable experience that stimulates children's curiosity and prepares them for a new theme. A memorable experience often involves an educational visit out of school or a visitor coming into school to share their expertise with the children.
Curriculum Design
Our curriculum design gives each year group the opportunity to cover a broad range of themes and subjects. Projects last either a half or full term depending on the amount of content and the children's interests. In some cases, projects may be taught for a shorter period, for example during a science or art week.
Subject Coverage
Reading
Reading skills lessons take place four days a week in each year group across the school for 25 minutes. Within these sessions, teachers model reading strategies during shared whole class reading sessions. These involve high quality texts which are read to or with the children and provide an opportunity to teach children specific reading skills. Questions are planned by teachers in advance to help children access a range of skills to help them to develop a greater understanding of a range of both fiction and non-fiction reading materials.
In EYFS and Year 1, this consists of four Reading Practice sessions from our Phonics scheme Little Wandle.
Prediction- Modelled by the teacher initially, the children explore key features of the text such as title, author, illustrator, and blurb to help them make a prediction about their story.
Decoding- The children will spend this session concentrating on applying their phonic knowledge and developing fluency when reading the words.
Prosody- Provides the opportunity to read the book again and practise reading with expression. It provides an opportunity to explore characters' feelings, what words mean and how punctuation adds to the meaning.
Comprehension- The purpose of this session is to focus on comprehension by using the reading content domains-
Draw on their knowledge of vocabulary to understand texts.
Identify/explain key aspects of fiction and non-fiction texts.
Identify and explain the sequence of events in the text.
Inference and deduction.
Prediction.
These do not begin in EYFS until the children have begun blending, children who are not blending will receive keep up sessions until they can blend and access the sessions.
In Year 2 to Year 6, reading sessions takes the form of 'VIPERS' – Vocabulary, Inference, Prediction, Explain, Retrieval and Sequencing (KS1) Summarise (KS2). These skills help to widen children's vocabulary and develop their levels of comprehension. Each day the class will focus on a different skills and learn how to answer questions related to it. The lessons are broken up into four parts-
VIPERS- children are given 3 questions to answer and then are modelled how to find the correct answers when marked as a whole class.
Vocabulary & Reading- The children will explore new vocabulary they will encounter before they read the next part of their book.
Independent Activity- This activity is based on a reading skill that they require to strengthen their language comprehension.
Extension- Children can challenge themselves further with a reading based challenge which can be found in challenge draw or basket in the classroom.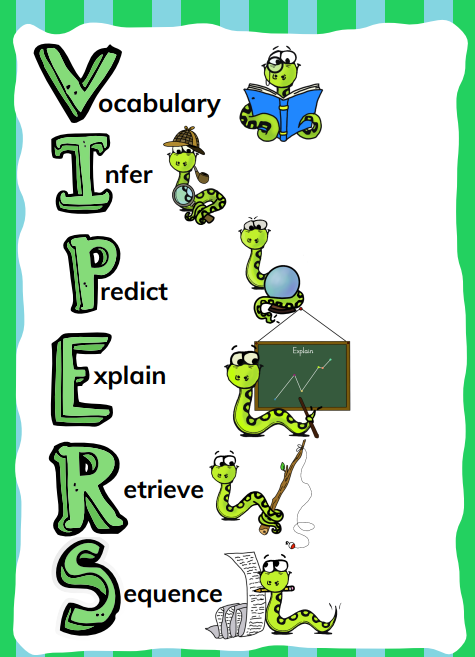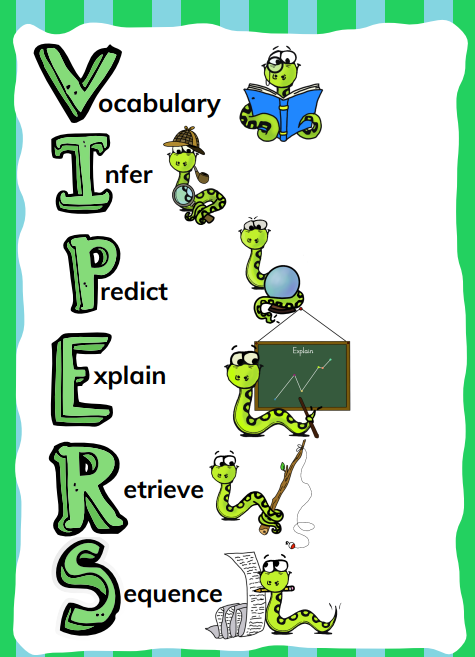 Writing
Within The Federation we believe that all pupils should be able to confidently communicate their knowledge, ideas and emotions through their writing. We want pupils to acquire a wide vocabulary being able to express themselves clearly to a wide audience.
 
As a result of Covid 19 The Federation is aware of the necessity for groups of children to be targeted so any gaps that may of occurred are covered.
A solid understanding of grammar and be able to spell new words by effectively applying the spelling patterns and rules they learn throughout their time in primary school.
 
We want them to write clearly, accurately and coherently, adapting their language and style in and for a range of contexts, purposes and audiences. We believe that all pupils should be encouraged to take pride in the presentation of their writing, in part by developing a good, joined, handwriting style by the time they move to secondary school. We believe that all good writers refine and edit their writing over time, so we want children to develop independence in being able to identify their own areas for improvement in all pieces of writing, editing their work effectively during and after the writing process.
 
We do not put ceilings on what pupils can achieve in writing and we do not hold pre-conceptions about any pupils' ability to make progress. We understand the importance of parents and carers in supporting their children to develop both grammar, spelling and composition skills, and so we want to encourage a home-school partnership which enables parents and carers to understand how to enhance the skills being taught in school.
PE
We believe that Physical Education (PE) experienced in a safe and supportive environment, is essential to ensure children attain optimum physical and emotional development and good health. Along with our external coaches from Inspire+, we intend to deliver high-quality teaching and learning opportunities that inspire all children to succeed in physical education and in developing life skills. We want to teach children skills to keep them safe such as being able to swim.  We also want to teach children how to cooperate and collaborate with others as part of an effective team, through playing competitive competitions with local schools and other sport meetings. We want our children to understand fairness and equity of play to embed life-long values. Our curriculum aims to improve the wellbeing and fitness of all children, not only through the sporting skills taught, but through the underpinning values and disciplines PE promotes.
Art & Design
Creativity is an important aspect of the curriculum in our school.  Children will be given the opportunity to explore and study many various styles of art, ranging from prehistoric cave paintings to the impressionist movement to more contemporary abstract pieces.  A closer look at famous artists from different cultures will allow children to understand more about who they were, and how and why they created what they created.
A wide variety of media including paint, charcoal and clay will be available for the children to experiment with in order to produce their own pieces of artwork, based on the art and artists studied during lessons.
Modern Foreign Languages
It is our intent at both our schools to provide our Key Stage 2 children with a high-quality introduction to Modern Foreign Languages (MFL) where we aim to develop their love of learning about languages and other cultures.
We aim to ensure that by the end of their primary education, children will have obtained an understanding of both spoken and written French and will have a solid foundation when speaking French to others with confidence.
Although our main emphasis will be French, we will also include opportunities and experiences of other languages where appropriate to give children a broader understanding of foreign languages.
Maths
In our Federation, we believe mathematics is an important part of children's development throughout school, right from an early age. We intend on delivering a curriculum which:
Allows children to be a part of creative and engaging lessons that will give them a range of opportunities to EXPLORE mathematics following a mastery curriculum approach.
Gives each pupil a chance to BELIEVE in themselves as mathematicians and develop the power of resilience and perseverance when faced with mathematical challenges.
Recognises that mathematics underpins much of our daily lives and therefore is of paramount importance in order that children ASPIRE and become successful in the next stages of their learning.
Engages all children and entitles them to the same quality of teaching and learning opportunities, striving to ACHIEVE their potential, as they belong to our school community.
Makes rich connections across mathematical ideas to develop fluency, mathematical reasoning and competence in solving increasingly sophisticated problems. * Provides equal opportunities for children to apply their mathematical knowledge to other subjects (cross-curricular links).
Is supported by a raised profile of the enjoyment of mathematics across the Federation
Science
Our mission is for our children to develop a life-long fascination for Science in the everyday world. By helping our children apply scientific thinking in all aspects of their learning and life, we will instil an understanding of the scientific method and an ability to use its thinking to solve life problems.
We aim to inspire some of our children to follow a career that requires the application of scientific disciplines. We seek to fascinate and engage our learners through practical investigations and experiments; teach them how to observe, measure, analyse, then draw their conclusions using deduction and reasoning.
Science provides an opportunity to practically demonstrate that we learn to read, to write and calculate and reason to achieve life goals. To this end, our children will have the opportunity to apply all these skills in evidencing their findings and communicating their conclusions. Science is perhaps
the
subject that has made human beings what they are today and will be the one that creates the world our children and grandchildren will live in tomorrow. We want our children to play a part in shaping that future.
Computing
We believe that Computing is a priority area within our current school improvement plan and aim to build on our previous successes to ensure improved provision at school and at home.
With the recent introduction of the Google G Suite, children will be able to access learning both in and out of the classroom. 
Google G Suite comprises of a number of word processing, spreadsheet and presentation applications which can all be accessed anywhere and used collaboratively by children through Google Classroom. 
Children will be given instructional lessons on how to fully utilise these applications and produce work in school which can be continued at home if needed
Teachers also have the ability to deliver lessons, set and feedback on work through Google Classroom remotely, should the need arise in the future.
Internet access is through Netlinc (Lincolnshire County Council's Schools' Internet provider) and their Cyber Patrol ensures that the children cannot access any unsuitable sites. All parents are asked to sign an Internet Use Agreement, the children are also asked to sign a copy agreeing to sensible use.
History
History is about the people - our record of what has happened and why. We aim to encourage and enable children to gather, analyse and interpret information in order to gain some idea of its place in history.
Throughout their time in school, children will have the opportunity to study and explore important events from different historical periods including, The Tudors, World War 2 and Ancient Civilisations.
Once children are aware of differences between the past and present, they can begin to develop a chronological framework and a depth of historical knowledge, which may be communicated in a variety of ways.
Geography
Geography throughout the school is designed to give the children progression and continuity of geographical skills and knowledge, leading to an understanding of places in the world around them.
The younger children investigate their immediate environment and neighbourhood.
Studies for older children are broadened from our local area to places further afield in the British Isles and abroad. Children will be able to make comparisons between different regions of the world, get a better insight into how other people live and learn about different physical and man-made features of the global landscape.
Children are encouraged to develop an awareness of local and world-wide issues and formulate their own opinions and views.
Music
We aim to provide many opportunities to allow children to express themselves.
In addition to weekly structured music lessons, children are given singing and playing opportunities in daily assemblies, hymn practice and whenever year groups are involved in productions.
Through our thematic curriculum we intrinsically blend the acquisition of musical skills through our topics. Opportunities to be creative composers of musical scores are developed and presented to audiences.
DT
Design and Technology prepares children for the rapidly changing world. Children are encouraged to become independent, creative problem solvers and learn how to develop collaborative and independent thinking skills. Opportunities are given for children to respond to needs and opportunities by developing their own ideas and products. Design and Technology is all about the combination of practical skills alongside developing an understanding of aesthetic, social and environmental issues. Once designs have been discovered and created, DT lessons allow children time to reflect on and evaluate past and present technology, including their own creations and those of their peers.
We aim to develop children's creativity, technical and practical expertise so that they can perform everyday tasks confidently. It is important that children are given opportunities to build and apply a repertoire of knowledge, understanding and skills so they can create high-quality prototypes and products.
Wherever possible, cross curricular links are made to ensure children get the most out of their learning experiences. We hope that when children leave us they are equipped to participate successfully in an increasingly technological world.