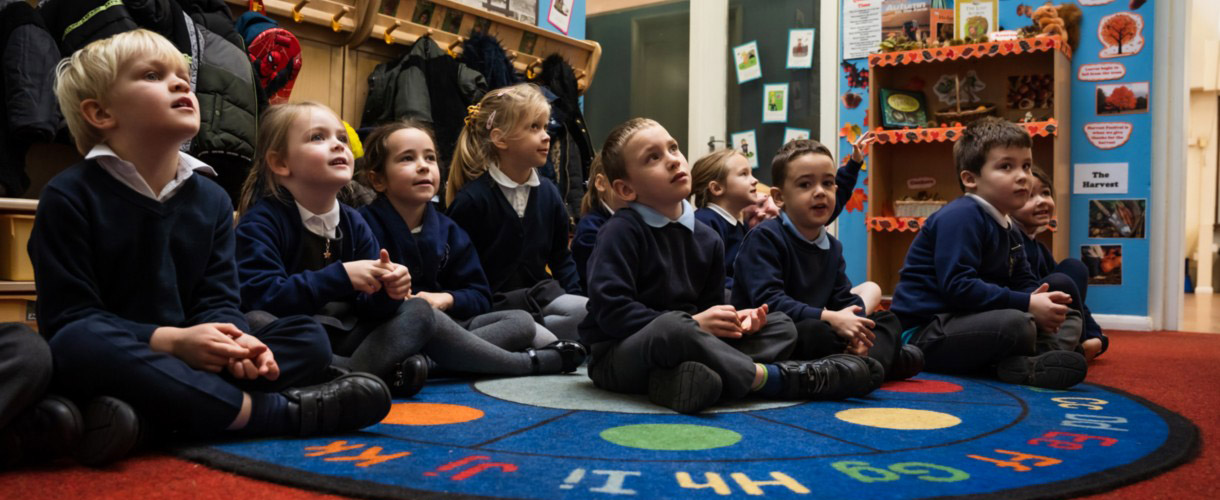 Our School Uniform
We believe that wearing a school uniform helps children identify with and take pride in their school.
For safety reasons, its recommended that if sandals are worn, they should not be opened toed. Boots or fashion shoes, including high-heeled shoes and sling backs are not suitable footwear for school.
PE Bags and book bags are presented to each child free of charge on entry to school.
You can order our school uniform from the School Trends website.
Girls
Navy Skirt/ pinafore/ trousers
White/ light blue shirt or blouse
Navy sweatshirt/

cardigan with school logo*

/jumper
White/ navy - socks/tights

Dark shoes
Summer option:

Blue gingham dress*

Sandals with covered toes
Boys
Dark grey trousers
White/light blue shirt
Navy sweatshirt

with school logo*

/jumper
Dark socks
Dark shoes
PE
Navy shorts
Light blue T-shirt with school logo

*Navy leotard (optional)

Plimsolls/thin soled PE trainers
Swimming kit when appropriate:
Swimming trunks that are short in the leg, not below the knee or Bermuda style/one-piece costume
Towel
Swimming Bag
Personal Property
Jewellery is not allowed apart from a watch and one pair of small, plain stud earrings. For health and safety reasons, all jewellery must be removed for swimming, and removed by the child for gymnastics and all sports. The school cannot accept responsibility for any loss.
Money and other valuables should only be brought to school for a specific reason and given to the appropriate person on arrival at school.
Parents are asked to ensure that all clothing and possessions are clearly marked with their child's name.
Most items are available from general children's wear stockists.
*Items available only from the School Office. We can also supply fleeces, coats and hats. Click this link for a uniform order form